Of all the New Years resolutions I am embarking upon, I feel best about meatless Monday.  Hubs and I have been discussing more vegetarian meals leading up to the new year, ever since watching the documentary Forks over Knives.  Yes, I believe most people have too much meat in their diet, so count us in for 2 less carnivorous meals each week (breakfast is always meat-free at our house).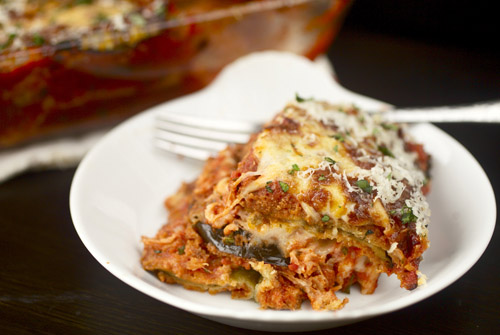 Now, I am actually look forward to Mondays!  I get to spend time testing out new recipes  to add to my repertoire and unlock the mysteries of a vegetarian diet.  Double Whammy!  Last week I made Eggplant Parmesan, and it was delizioso! And hubs approved! Sorry I don't have any step by step pictures to share – it was very improvisational as I was also attempting to make it gluten-free.
Here is my improvised recipe… Next time I will attempt step-by-step photos, or at the very least a picture of the final result. This is actually easy peasy to put together – just a little time consuming.  All in all it probably took me about 1 hour and 15 minutes to put together, but I am not the fastest cook in the world.  I tend to muck about the kitchen quite a bit – God help me if I add a camera into the mix…
Eggplant Parmesan
Ingredients:
1 large eggplant
Gluten Free Bread Crumbs
Dried Oregano
Dried Basil
Dried Thyme
4 eggs
1 can of diced tomatoes (14 oz.)
1 jar Spaghetti Sauce
1/2 Onion – diced
1 cup Mushrooms – diced
3 cloves of garlic, minced
2 cups mozzarella cheese – grated
1 cup parmesan cheese – grated
Salt to taste
Heat the oven to 375 degrees.
Beat eggs and put into a flat dish for dipping. Add 1 tsp of oregano and 1 tsp basil to 3/4 cup of GF bread crumbs.  I mixed these together in a baggie, and the poured the mixture onto a plate.  Most recipes suggest cutting the eggplant into 1/4″ rounds, but I cut the top and end off, and then cut the eggplant into 1/4″ lengths.  I liked it this way, because they laid in the pan more like a lasagna noodle.
Dip the eggplant in the egg mixture, and then in the breadcrumb mixture and fr in a large non stick frying pan with about a tablespoon of olive oil at medium heat – approx. 2-3 lengths at a time.  Fry each side for approx. 3 minutes until golden brown and remove from pan.  In the meantime, I made the sauce to spread between the layers of eggplant.
In a medium sauce pan fry the onions in oil at medium temperature until they start to become translucent.  Add the garlic and fry for about a minute.  Add mushrooms and fry for another 5 minute.  Then, add diced tomatoes, spaghetti sauce and season with basil and oregano to taste.  bring to a boil, then lower to simmer.
Once you finish frying the eggplant, assembly is a snap.  Start by layering eggplant to cover bottom of 9x 13 pan, about 1/3 of the sauce, 1/3 of the mozza, 1/3 of the parmesan, and lightly sprinkle layer with salt (about 1/4 teaspoon).  Complete 3 layers and bake in the oven for about 30 minutes utils sides are bubbling and cheese has browned.
Enjoy
Comments
comments