As I browse through the blogosphere this week, fall is definitely in the air.  Something about the imminent change in the weather sends us seeking the familiarity of fall like a well-loved blanket.  Creature comforts abound, as well as activities and DIY ideas that are just so homey.  Makes me want to pull on a pair of rubber boots, and head out to the garden to dig up carrots.  Here are some fabulous ideas to inspire your fall themed party decorations –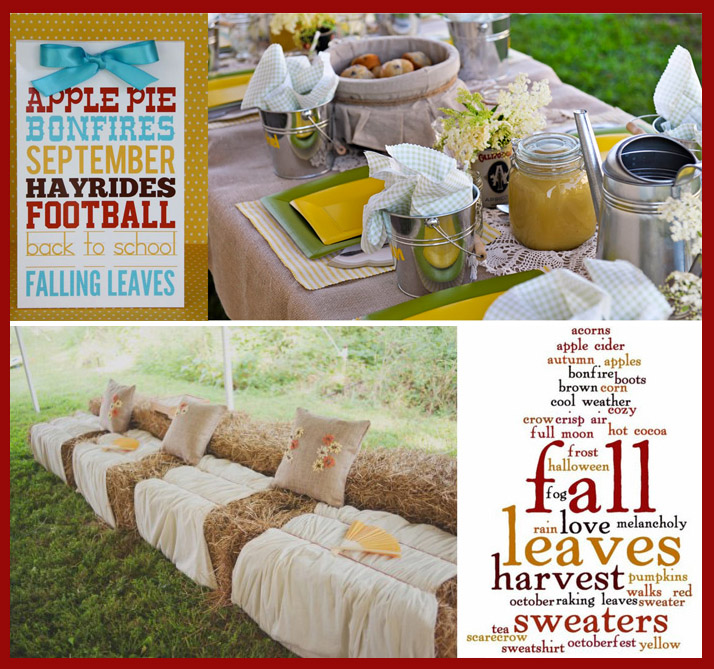 Photo credits, from top left – Apple Pie text – bethproudfoot.blogspot.com, Rustic Table Setting – ellebelleblogspot.com, Straw Bale Sofa – urbancountrystyle.com, Fall Leaves text – theworldofaclassylady.tumblr.com
How easy is this straw bale sofa?!  Would also look great with a quilt thrown over top.
I have always loved the juxtaposition of flowers with whole fruit.  Citrus, yellow and orange florals, and light green succulents seem to exude cheerfulness.  Good thing this concept is timeless – I found some great inspiration in the HWTM archives.
And, one of my favorite flowers is prolific this time of year – dahlias!  Reminds me of the plethora of varieties Momma A grows in the garden, which are kaput about now.  Here they are, off to market…

Using seasonal fruits and veggies as centerpieces – apples, pears, ONIONS!! – why not?  We don't discriminate here; all produce is (tr)eated equal. Something so simple and natural about these gorgeous fall centerpieces.  And a little bit rustic…
(BTW the Autumn issue of Styled is super-dee-duper gorgeous! Full of Figs and fabulousness…  check it out!)
Vintage seed packet bunting strung on garden twine is so clever.  And I loves me an old school apron – could be a great party favor for your guests.  Even better if you need a little help in the kitchen prepping or cleaning up!
It seems all this rustic goodness has folks getting outdoors, heading out to wide open spaces to appreciate simpler times.  Like tromping through the woods in your boots with the earthy smell of leaves wafting through the air.

Photo credits, from left: Autumn Stroll – ohhelloyouprettythings.tumblr.com, Wooden Bridge – trekearth.com, Wellies – flickr.com/peternijenhuis
Or an outing to a local orchard for some good ole apple picking.  Don't even get me started on pies, crisps and the like; that is another post entirely.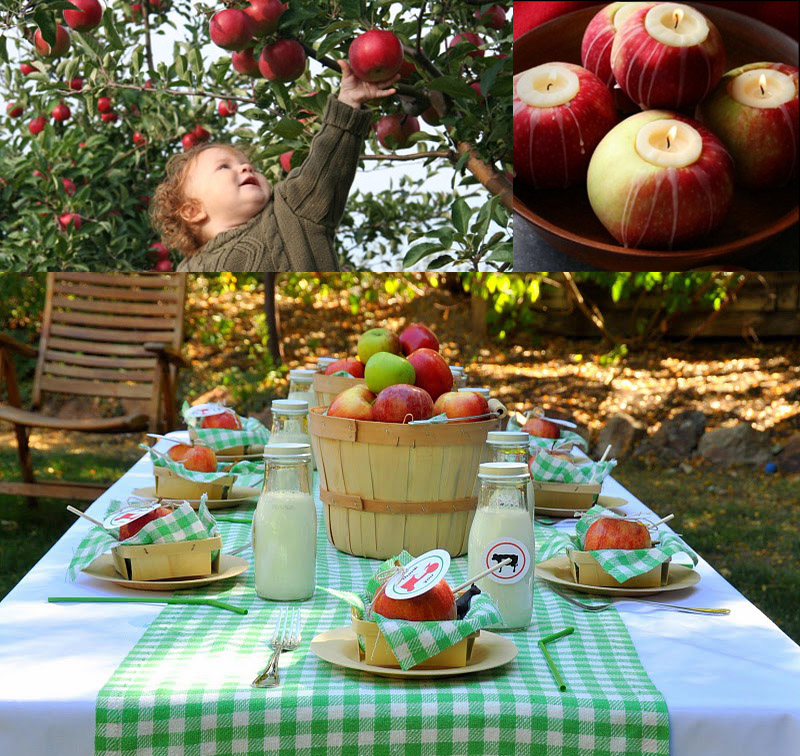 Apples and milk… you just can't get any more homey goodness.  That, my friends, is like the first day of school and Christmas combined.  It seems my work here is done, with the perfect bookend for our harvest inspiration.
Comments
comments