We love and appreciate our neighbors but unfortunately with all the day-to-day hustle and bustle we just don't take the time to kick back and socialize .  What better time to get your neighbors and families  together then to celebrate the 4th of July festivities.
Now, inviting the entire neighborhood to your backyard might seem like an overwhelming task, but you can really simplify the day by getting your guests to pitch in.  Note on your invitations that it is a potluck, and have them rsvp to let you know if they are bringing a salad or dessert.  That way you can make sure that your buffet line is balanced, and supplement where most needed.  Also suggest they bring a lawn chair if you don't have seating for large numbers.
The color theme makes decorating very straightforward.  Purchase all of your tablecloths, napkins, etc. in the traditional red, white and blue… you won't have any trouble finding American flag themed decorations to dress up your tables and backyard.
Plan to arrange a number of tables around your lawn – some for buffet offerings and others for seating.    You can throw a few blankets down for children or families to picnic on as well.
Set up a refreshments table away from your buffet so guests can easy help themselves to a drink.  A cooler dedicated to bottled water and soda and one for beer packed in ice are the best way to serve cans and bottles.  Plan to have glasses, bottle openers set on the table, and a recycling container nearby for empties.    A refreshing alternative to bottled beverages is a crisp lemonade, such as the tasty one below…
Fresh Strawberry Lemonade
Prep Time: 10 mins
Ingredients:
1 1/2 cup strawberries (hulled + halved)
1/4 cup agave nectar
2 1/2 cups fresh water
juice of 2 large lemons
extra strawberries for garnish
Blend strawberries, lemon juice and agave on high until quite smooth. Pour into a pitcher and add water. Whisk to combine and refrigerate until well chilled. Serve over ice and garnish each glass with a strawberry.  Makes approximately 6 8 oz glasses. Note: Using only two lemons gives it that tart lemony flavor without having to add tons of sweetener. To get the most juice out of your lemon, put it in the microwave for 10 seconds before squeezing. If you want it more lemony, add the juice of 2 additional lemons (4 total) and another 1/4 cup of agave (1/2 cup total) to the blender before adding water.
Source: http://www.cookingwithmykid.com/recipes/fresh-strawberry-lemonade/
Now really, with your guests bringing half the meal, you can focus on the grilling.  Simple family friendly hamburgers, hotdogs and corn on the cob are popular, quick, and can be cooked as needed.  I like to make my hamburgers from scratch, and this site shows you how to make them in no time at all – http://savorysweetlife.com/2010/05/shaping-perfect-hamburger-patties/.
I also like to offer a vegetarian option, although these suckers always fall apart – my husband luckily works his BBQ magic and they don't disappear through the grill.  There are plenty of recipes on the web, and if you are not steadfastly vegan, I would like to suggest the addition of an egg or two.
Set out all the fixin's for the burgers, so your guests can load them up how they like.  They might even want to put my famous coleslaw on top, but it is also perfectly awesome on its own:
Sensational Coleslaw
(depending on the size of your crowd, adjust amounts as needed.  I don't necessarily measure the veggies, I just mix just enough of everything to get the colorful fiesta I like)
Green Cabbage – shredded
Purple Cabbage  – shredded
Carrots – shredded
(a food processor works best here, folks)
Cilantro – Chopped
Dressing
Equal parts –
Cider Vinegar
Olive Oil
Brown Sugar
Dash of Sesame Oil
Dessert for this day has pie written all over it.  However, baking pie is not my favorite pastime.  And I'm not a fan of the store bought variety either. So, I have a bit of a pie conundrum.  You could see if your neighbor's are willing candidates, but if you don't have a baker in the group, you may wind up with store bought.  So, my suggestion is to order from your local Marie Callendar's  (if you have one nearby) or visit your local farmers market close to the date (you can always freeze them), so you get a tasty pie, and not a nasty generic version.  Then all you have to do is top with a scoop of vanilla!
Keep everyone active and entertained by planning a few outdoor games – egg and spoon race, egg toss, three legged race, sack race, wheelbarrow race, etc.  Depending on how large your crowd is, you can cap off your day's event's with a game of flag football or ultimate Frisbee before heading off to the local fireworks display.  Happy 4th of July!!!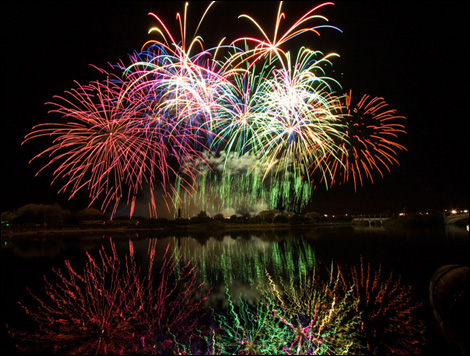 Comments
comments