Nothing marks the joyous transitional occasion from one exciting part of life to the new unknown like graduation.  The time of year is ripe with enthusiasm as the  newness of spring begins to fade into the relaxing warmth of summer.  Marking the occasion with an afternoon tea party is a fun balance of sophistication and whimsy for a great group of friends to enjoy as wings are spread towards new and exciting adventures.
An unusual and inspired invitation can set the tone for your event.  Etsy always has creative and unique possibilities – and you can always collaborate with the artist to develop the perfect invite.  A mailed invitation is best – let your guests revel in the sense of intrigue and suspense as they discover your invitation while sorting through the mail.  Some great invitation ideas below:
Have fun with the decorations for the event; an eclectic setting of mismatched patterns and colors create a sense of whimsy.  Floral arrangements can be set out in a variety of unconventional containers.  Hanging Paper lanterns or interesting garland overhead are festive and engage a larger space  – helium filled balloons will also work in a pinch.  Mix and match some of the great decorating ideas below:
Since the party will likely be for a group of ladies, you should encourage them to "dress" for the event.  Not in the formal sense, but to wear something unusual and fun such as hats or fascinators , gloves, party dresses etc. in the spirit of the occasion.
Selecting the menu for your tea party should be simple and social.  Take into consideration items that can be set out for your guests to serve themselves:  preferably smaller sized portions so a variety of items can be sampled.  You may want to start out the first course with a refreshing chilled gazpacho – I'll take my cucumbers in soup form, thank you.  Sorry about the recipe for the link; my Italian is not so good either.
We can do much better in the sandwich filling dept. than anemic green veggies.  How about a host of finger sandwiches using a trifecta of salad fillings – egg, chicken, and tuna.  I'm not all fussed about cutting off the crusts… how else are you going to grow chest hair? (One of my dad's famous sayings that surprisingly applied to pretty much anything us kids didn't want to eat).  Yes, quartering sammies works just fine, and play around with your bread varieties and shapes.  Open faced also looks and tastes great!
Check out the blog link for the above picture – these sandwiches sound bomb!  Too bad Wisconsin is so far away because I was so going to check out this amazing tea house!!  Any hoo, I digress…
And now on to dessert.  Well, you can't rightfully have tea without scones IMHO, and that would be my focus.   You may want to make a couple flavors of smaller sized scones, then focus on toppings to make them scrumptiously good.  Whipped cream (soft peak stage), lemon curd, and a variety of different preserves should do the trick.  And don't worry, making scones is dead simple.  I remember getting up to make them on Sunday mornings when I was a youngster (say 10 or so), and surprise my family with them – and probably with the mess I made.
(this site also provides a classic recipe, but unfortunately with weight measurements which a scale-less me hates!)
You may also want to supplement your dessert offering with squares, because hey, the world is your oyster.
Oops… what about the TEA??  Well, I like the stuff, but I'm no connoisseur.  There are many helpful sites that you can enlist for assistance in order to brew a few varieties for your guests.  I am thinking of an outdoorsy summertime affair, and for me, cold bevvies are the way to go.  I would suggest brewed iced tea, lemonade, and perhaps a celebratory alcoholic spritzer or sangria (sangria recipe in the below link sounds YUM!).   Served  in Mason jars is a nice homey touch.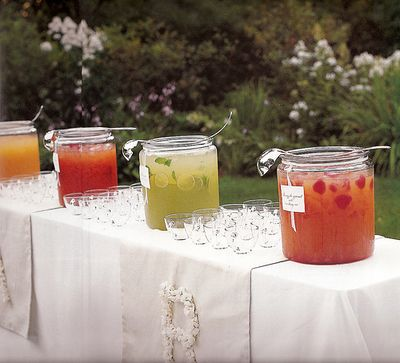 Now after all of this delicate tea service, the ladies are going to want to stretch their legs with a little recreational activity.  Set up the lawn for a rousing game of croquet or bocce ball.  Or, if your gals are a little more feisty, there is nothing like a competitive game of horseshoes…
The most important thing is to enjoy your friends, summer, and celebrate a job well done.  Bravo!
Comments
comments